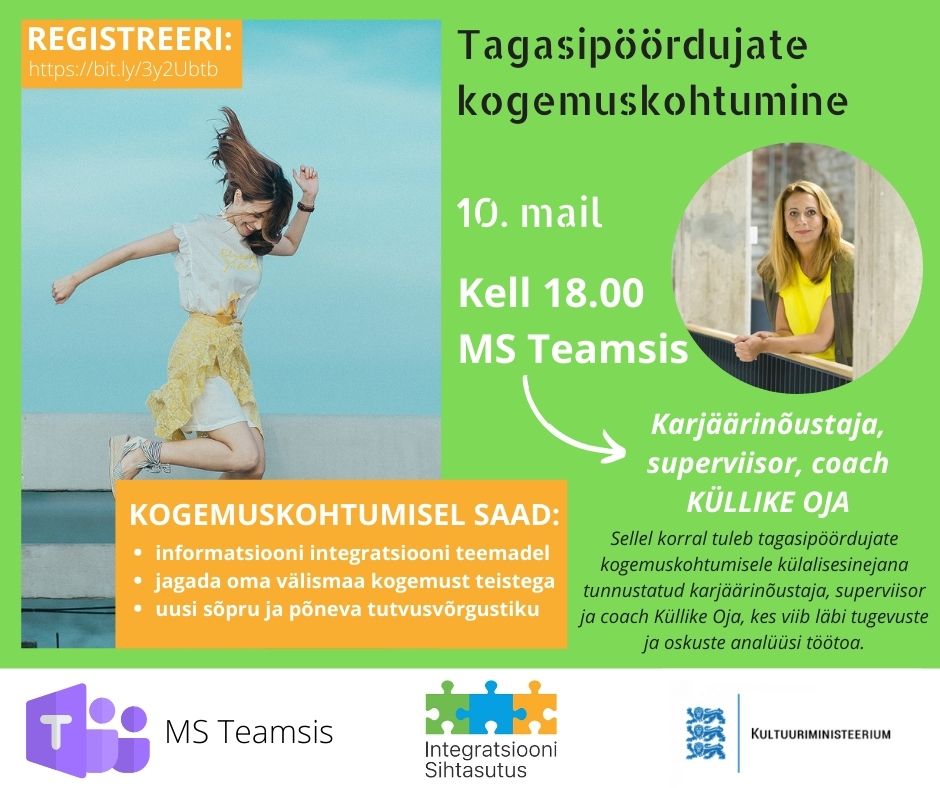 Dear returnee/compatriot!
Are you planning to return to Estonia? Or have you already started a new life in Estonia?
Come and share your experiences with the other similar people!
Integration Foundation offers an online meet-up series for those who are interested in sharing their 'living abroad/returning to Estonia' experiences with the other similar people. Meetings take place twice a month via MS Teams, and it is a great chance to get new friends, learn more about life in Estonia, get integration information etc.
The next meet-up takes place on May 10 at 6:00 PM (EET). The link will be sent to the participants the day before the event.
To participate, please register here: https://bit.ly/3y2Ubtb
In the first half of the meeting, we have invited a career counselor, supervisor, coach Küllike Oja, who will conduct a strength and skills analysis workshop, as a guest speaker. In the second half of the meet-up all the participants will get to know each other, speak about life abroad/ in Estonia, and discuss other integration related topics.
More information about the Integration Foundation services to returnees is available here:
https://www.integratsioon.ee/en/returnees
We look forward to seeing you!
Anyone returning to Estonia is welcome to attend our support meetings!
The Integration Foundation is organising a series of meetings for those who have returned to Estonia from living abroad in order to help them better readjust to life in the country and make contact with others going through the same experience.
During the meetings the attendees get to hear how others who have returned to Estonia are coping with being back in the country, share their own experiences and concerns and obtain useful information and support in organising their lives more effectively.
The meetings are run by experienced trainers and consultants.
More info:
Kaire Cocker
Head of Compatriots Service
kaire.cocker@integratsioon.ee
+372 5364 4172