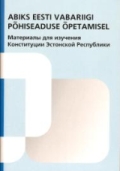 Title:

Abiks Eesti Vabariigi põhiseaduse õpetamisel

Author:

Jüri Põld, Oliver Kask, Ülle Madise, Mare Räis

Publisher:

Kirjastus Argo

Year:

2004

Released:

Tallinn

ISBN/ISSN:

9975-415-10-1

Keywords:

teaching material secondary education citizenship civics edukadion constitution

File:
Description
The brochure is designed for use by teachers and high school students in examining the development of state law and the most important chapters of the constitution in more detail.The brochure adds to the "Eesti omariikluse arengust" (Development of the Estonian State) collection of documents previously issued to schools. It provides an opportunity to integrate different subjects in order to explain and comprehend the background to and content of important documents in state law.Each chapter ends with questions posed by the authors whose answers can be found within the preceding texts. The book itself ends with a test whose tasks can be used by students to independently check their skills, knowledge and conceptual abilities.The material is presented in both Estonian and Russian to allow students from schools with Russian as the language of instruction to learn the appropriate Estonian terminology.
The material was distributed to Russian-language high schools and vocational schools free of charge. The print run was 5200 copies.