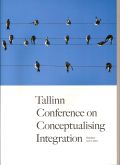 Title:

Tallinn Conference on Conceptualising Integration

Author:

Hill & Knowlton Estonia

Publisher:

Integration Foundation

Year:

2008

Released:

Tallinn

ISBN/ISSN:

978-9985-9917-7-0 (online)

Keywords:

citizenship multiculturalism newly arrived immigrants collection of articles integration integration education lõimumiskava intercultural dialogue conference development plan

File:
Description
An international conference titled "Tallinn Conference on Conceptualising Integration" was held in Tallinn on 18 and 19 October 2007 which focussed on Estonia's integration policy and the directions in which it has the potential to develop.
The main objective of the conference was to analyse the drafts of the integration policy for 2008-2013. Scientists from eleven different countries attended the conference, sharing their thoughts and visions of aspects of integration over the two days and looking at the challenges multiculturalism poses to a nation. The wealth of thoughts and opinions represented at the conference provided some valuable ideas for the development of the new integration policy and are certain to be of help in the evaluation of processes and developments in Estonia in future. This anthology brings together all of the presentations given and opinions aired at the conference.